Somewhere along the path to a Big 12 Conference Championship berth, the Oklahoma State football team shed its dependency on winning tight, suspenseful games.
The Cowboys have continued to rise above conference opponents, but recently, they haven't needed any fourth-quarter heroics or sudden momentum shifts.
Decisive victories have become their new style.
This pattern continued when the Cowboys shellacked Texas Tech 23-0 on Saturday night in Lubbock, Texas. With the dominant win, No. 9 OSU made history, solidifying its first appearance in the Big 12 Championship Game.
"It's hard to get in there," coach Mike Gundy said. "Games are hard to win with the parity in college football, and the parity in this league … for these guys to find a way to get in that game is a big accomplishment."
As the matchup in Lubbock approached, some fans worried the Cowboys (10-1 overall, 7-1 Big 12 Conference) were walking into a trap. Earlier in the day, Oklahoma defeated Iowa State, meaning a triumph over the unranked Red Raiders would guarantee OSU a postseason trip to Jerry's World on Dec. 4.
Would the Cowboys squander the opportunity? Would they look too far ahead to Bedlam?
OSU didn't take long to squelch those speculations.
After mustering 41 points for a narrow victory against ISU during the previous weekend, the Red Raiders' offense crumbled against the Cowboys. Although Texas Tech tried to lean on its defense to stay in the game, OSU scored in every quarter, gradually building an insurmountable advantage. The Cowboys had 427 yards while limiting the Red Raiders to 108, including only 25 rushing yards.
Although the Cowboys shut out an opponent for the first time since 2012, they didn't have to do anything out of the ordinary to achieve this feat. Instead, they stuck to the identities that have carried them through the season: rock-solid defense, along with an increasingly reliable offense, which can take care of business even without replicating the crowd-dazzling scoring frenzies from earlier Gundy years.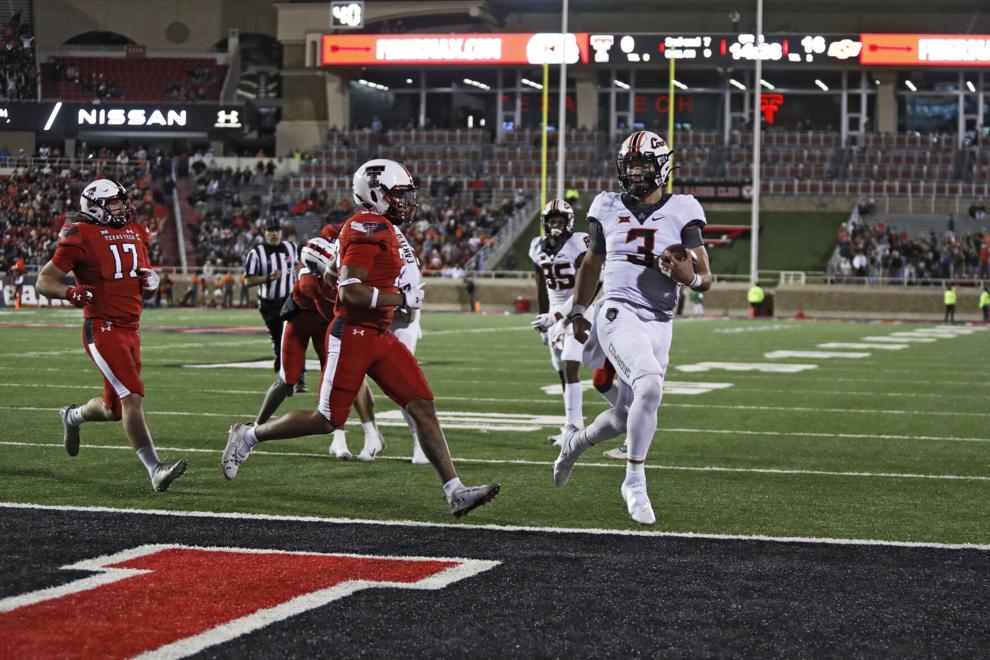 Starting quarterback Spencer Sanders completed 19 of his 38 pass attempts, throwing for 239 yards and one touchdown. Super senior receiver Tay Martin overcame a few dropped passes to reach a career-high 130 yards on seven catches.
Senior placekicker Tanner Brown made three field goals and two PATs for a total of 11 points.
Brown established a 3-0 lead when he kicked a 24-yarder with 10:02 left in the first quarter. In the second, OSU turned to Brown again after attempting a crafty double-pass play that didn't work when intended receiver Jaden Bray tripped out of one of his cleats in the end zone.
Brown continued to deliver, kicking a 33-yard field goal to put the Cowboys up 6-0.
Then, OSU put its offense in a higher gear when Sanders launched a 14-yard pass to freshman receiver John Paul Richardson, who maintained control of the ball as he stumbled backward in the end zone, extending OSU's lead to 13-0.
After Brown made his third field goal, Sanders capped the victory with a 9-yard touchdown rush in the fourth quarter.
While the offense quietly gained power, OSU's defense made a statement from the beginning, forcing three-and-outs on the Red Raiders' first two drives. The defensive stronghold resulted from collective effort – 23 Cowboys had at least one tackle, and super senior linebacker Devin Harper led the team with five.
Texas Tech converted on only three of 14 third downs. In the past four games, the Cowboy defense has held opposing offenses to a 13 percent completion percentage (7 of 54) on third down.
The Red Raider with the most yardage was Austin McNamara, who punted nine times for a whopping 508 yards, booming the longest one for 70.
After giving credit to OSU's defense throughout the season, not even Gundy could offer anything new about the group's dominance.
"I don't know what else to say about the defense," Gundy said. "Kind of running out of things to say about them on Saturdays."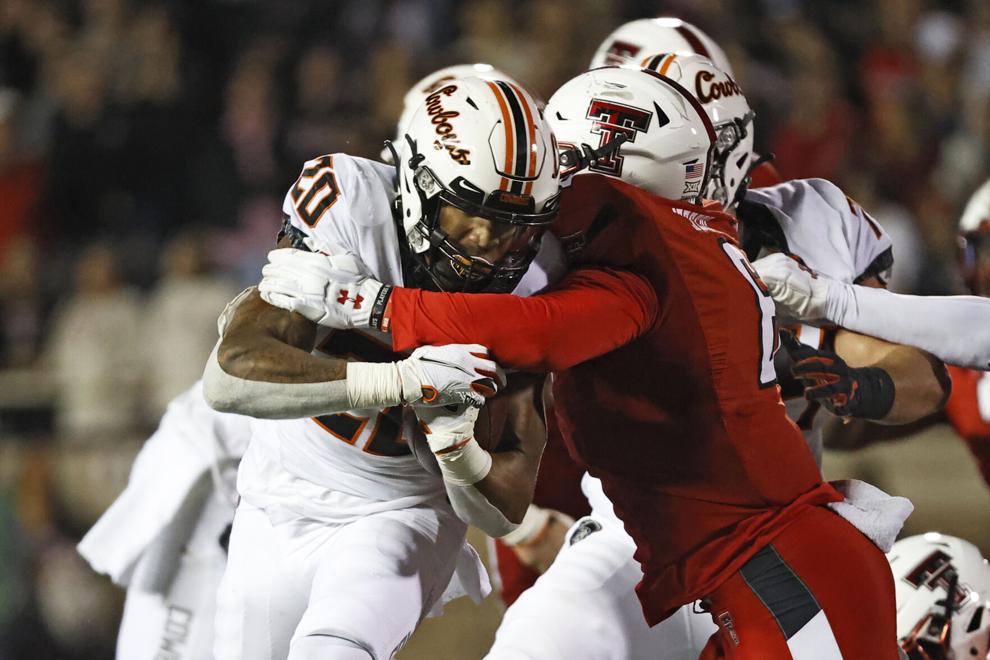 Although OSU backs up its top-10 status more and more each week, the end of the year brings a challenging, high-stakes stretch. Before traveling to Arlington, Texas, for the Big 12 Championship, OSU closes its regular season against OU at 6:30 p.m. Saturday in Boone Pickens Stadium.
If the Cowboys lose, then the championship game will double as a Bedlam reprise. With a victory, OSU could possibly face Baylor in the championship game if the Bears defeat Texas Tech.
With a championship spot secured, the Cowboys have plenty to celebrate, but that isn't distracting Martin from the Sooners.
"I expect to whoop their (butts), honestly," Martin said. "I don't go into a game thinking otherwise."