This season's College Football Playoff left a lot to be desired for Oklahoma fans.
For the second-straight year, the Sooners felt more like a placeholder than an actual title contender, and their 63-28 loss to LSU in the Chick-fil-A Peach Bowl confirmed that.
Although the selection committee has been known for making puzzling decisions when selecting the four teams that will battle it out for a chance at a national championship, OU's inclusion couldn't be helped.
Sure, maybe Georgia or Oregon would've put up a better fight against the Tigers, but both those teams sported two losses, a blemish OU managed to avoid despite several close calls.
It wouldn't be college football without controversy, but what if both those teams got their shot anyway? What if the debate was less about who gets in and more about how many get in?
This is a reference to expansion, but not to only six, eight or even 24 teams. Those numbers aren't quite enough in my fantasy world.
Whether it is the buzzer beaters, the Cinderella teams or simply filling out bracket after bracket, college basketball's postseason tournament, March Madness, brings about some of the most exciting action and insanity sports can offer. Why not give football that same luxury?
I've always dreamed about an NCAA Tournament-esque college football playoff, and though the idea is unrealistic, I must ignore real-world limitations to make this dream become reality.
With that in mind, I've created a 64-team playoff that will determine the ultimate national champion (the injury setting switched off, of course).
As a one-man selection committee, I divided the teams into four geographical regions (South, Midwest, East and West) consisting of 16 teams each.
I followed the NCAA Tournament selection guidelines as closely as possible, so each of the first four teams selected from a conference were placed in different regions if they were a fourth seed or better.
Furthermore, teams were placed in a way where there won't be any rematches or interconference matchups before the Sweet 16.
I also tried to keep teams in or as close to their natural region as possible. Proximity to bowl games in the Sweet 16 and Elite Eight played a factor in this as well.
If two teams from the same natural region were in contention for the same bracket position, the team ranked higher on the seed list got the nod.
To set the field, I used a combination of the CFP rankings, the AP poll, the Coaches Poll, the former BCS computers and other useful polls.
Keeping with bowl eligibility requirements, only teams with at least six wins were considered.
This is a hypothetical postseason, so erase Ohio State's heartbreaking loss to Clemson from your memory banks and dispose of LSU's drumming of the Sooners.
In other words, bowl results have no bearing on each team's seed.
Who will reign supreme?
Will Clemson continue building its dynasty with a second-straight national title? Will OU prove doubters right and miss the Final Four? Will the likes of Memphis or Minnesota prove to be legitimate contenders?
Let's find out. Here are the No. 1 seeds:
SOUTH | LSU
MIDWEST | Ohio State
EAST | Clemson
WEST | Oklahoma
Like the NCAA Tournament, the No. 1 seeds have been set up for a Final Four where the overall No. 1 seed would play the fourth No. 1, while the second and third No. 1 seeds would play each other.
In this case, the winner of the South Region would play the winner of the West Region in one semifinal game, and the other semifinal would pit the winner of the Midwest Region against the winner of the East Region.
TOURNAMENT LOCATIONS
The first two rounds will be played on the campuses of teams with the better seeding (No. 1 hosts No. 16, No. 8 hosts No. 9, etc.).
Bowl games will begin in the Sweet 16 to ensure the traditional postseason we all know and love isn't eliminated.
Each region has assigned bowls for each round based on geographical location. The highest-seeded teams will be placed in bowl games closest to their geographical locations.
The Elite Eight locations are as follows: Sugar Bowl (South), Cotton Bowl (Midwest), Orange Bowl (East) and Rose Bowl (West).
The Peach Bowl and the Fiesta Bowl will remain the Final Four locations, and the Mercedes-Benz Superdome in New Orleans will still host the championship.
THE BRACKET
Now let's take a look at the bracket. Who's in?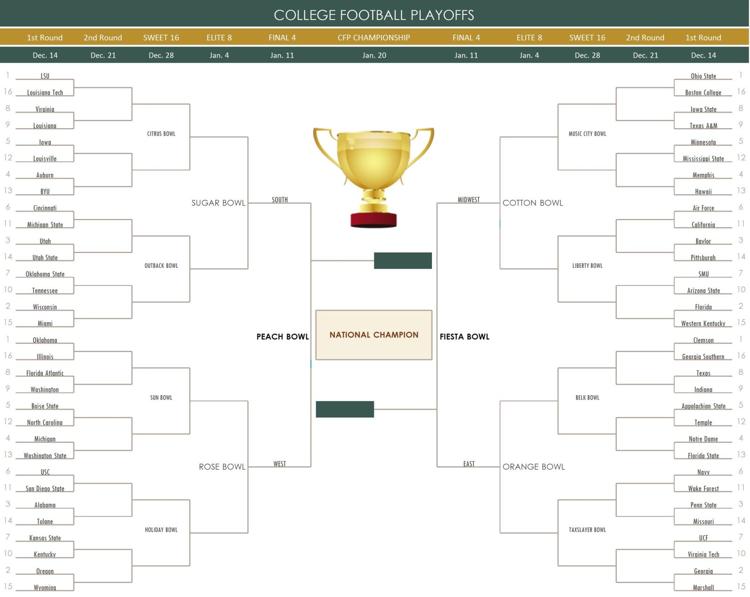 SOUTH | 1 LSU vs. 16 Louisiana Tech; 8 Virginia vs. 9 Louisiana; 5 Iowa vs. 12 Louisville; 4 Auburn vs. 13 BYU; 6 Cincinnati vs. 11 Michigan State; 3 Utah vs. 14 Utah State; 7 Oklahoma State vs. 10 Tennessee; 2 Wisconsin vs. 15 Miami
MIDWEST | 1 Ohio State vs. 16 Boston College; 8 Iowa State vs. 9 Texas A&M; 5 Minnesota vs. 12 Mississippi State; 4 Memphis vs. 13 Hawaii; 6 Air Force vs. 11 California; 3 Baylor vs. 14 Pittsburgh; 7 SMU vs. 10 Arizona State; 2 Florida vs. 15 Western Kentucky
EAST | 1 Clemson vs. 16 Georgia Southern; 8 Texas vs. 9 Indiana; 5 Appalachian State vs. 12 Temple; 4 Notre Dame vs. 13 Florida State; 6 Navy vs. 11 Wake Forest; 3 Penn State vs. 14 Missouri; 7 UCF vs. 10 Virginia Tech; 2 Georgia vs. 15 Marshall
WEST | 1 Oklahoma vs. 16 Illinois; 8 Florida Atlantic vs. 9 Washington; 5 Boise State vs. 12 North Carolina; 4 Michigan vs. 13 Washington State; 6 USC vs. 11 San Diego State; 3 Alabama vs. 14 Tulane; 7 Kansas State vs. 10 Kentucky; 2 Oregon vs. 15 Wyoming
RESULTS
To ensure the most accurate results possible while also evading my personal bias, I simulated every game using the complex algorithms of the Massey Ratings Matchup Tool.
First and second-round games were simulated 25 times each, Sweet 16 and Elite Eight games were simulated 50 times each and the final two rounds—including the national championship—were simulated 100 times each.
The average score for each matchup will be listed as the hypothetical final score, folllowed by the simulation outcome.
Here are the results of my computer-simulated College Football Playoffs:
SOUTH REGION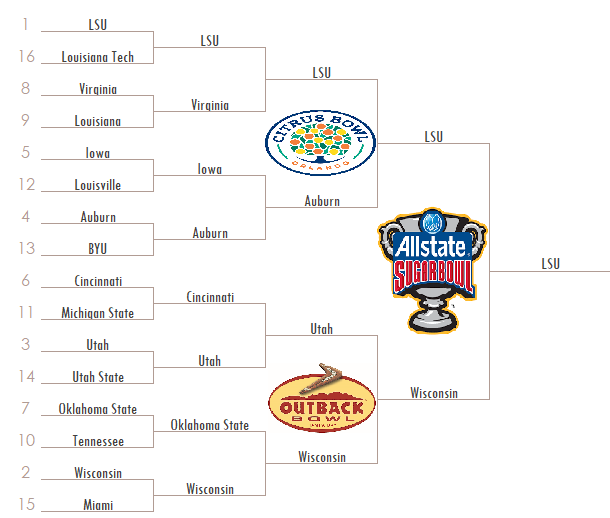 First Round
(1) LSU 55, (16) Louisiana Tech 11 | 25-0 games
(8) Virginia 38, (9) Louisiana 31 | 18-7
(5) Iowa 36, (12) Louisville 19 | 22-3
(4) Auburn 39, (13) BYU 13 | 25-0
(6) Cincinnati 21, (11) Michigan State 11 | 19-6
(3) Utah 39, (14) Utah State 12 | 25-0
(7) Oklahoma State 29, (10) Tennessee 24 | 18-7
(2) Wisconsin 36, (15) Miami 7 | 25-0
Round of 32
(1) LSU 60, (8) Virginia 16 | 25-0
(4) Auburn 25, (5) Iowa 14 | 19-6
(3) Utah 18, (6) Cincinnati 17 | 18-7
(2) Wisconsin 32, (7) Oklahoma State 18 | 20-5
Sweet 16
CITRUS BOWL | (1) LSU 47, (4) Auburn 21 | 50-0
OUTBACK BOWL | (2) Wisconsin 24, (3) Utah 17 | 37-13
Elite Eight
SUGAR BOWL | (1) LSU 38, (2) Wisconsin 23 | 46-4
Much like in real life, LSU made its run to the Final Four look rather easy.
The Bayou Bengals cruised through the South Region, losing only four of its 150 simulated games while averaging 50 points per game. They scored 80 points or more seven times during simulations, including an 87-14 embarrassment of Virginia.
They also beat the Cavaliers 75-8 as one of two games scored in the 70s.
Wisconsin was the only team to steal victories from the overall No. 1 seed, but LSU won that series 46-4 by an average score of 38-23 in the Sugar Bowl.
The Tigers took down Auburn in the Citrus Bowl in a rematch along the way, but what is most shocking is how easily they conquered Gus Malzahn's squad. Despite winning only 23-20 during the season, LSU crushed the other Tigers this time around, winning all 50 simulations with a 47-21 aggregate score.
Elsewhere in the region, Oklahoma State and Tennessee provided plenty of first-round fun. The Volunteers won the first game by a whopping score of 32-14, but the Cowboys won 18 of the next 24 to advance by a 29-24 average.
OSU struggled mightily against the Badgers in the second round, though, dropping 20 of 25 games (32-18 average). Three of its five wins came in the final four games of the simulation.
Iowa eyed an upset of Auburn in the second round after winning the first three game simulations, but the Tigers recovered for a comfortable 19-6 (25-14) victory.
Although the average score of 18-17 makes the matchup between Utah and Cincinnati look closely contested, it wasn't. The Utes opened and closed the series with six-game winning streaks and were never in danger of an upset.
Utah, which nearly made the College Football Playoff, was surprisingly no match for Wisconsin in the Outback Bowl, losing 23 of the first 28 simulations on the way to a 37-13 defeat by a 24-17 average.
WEST REGION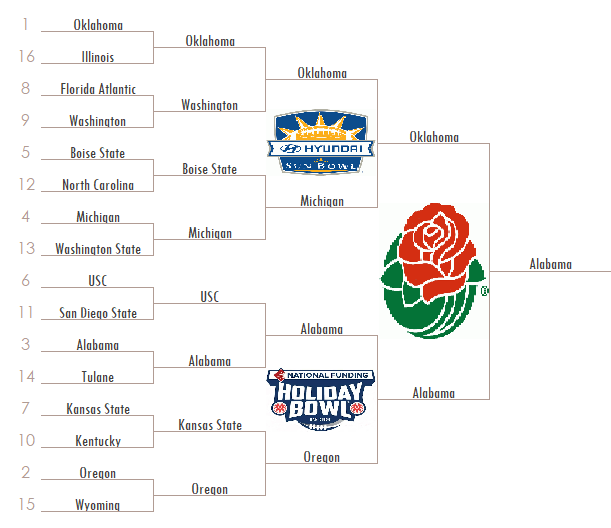 First Round
(1) Oklahoma 48, (16) Illinois 26 | 24-1
(9) Washington 29, (8) Florida Atlantic 24 | 14-11
(5) Boise State 36, (12) North Carolina 28 | 20-5
(4) Michigan 41, (13) Washington State 21 | 21-4
(6) USC 28, (11) San Diego State 19 | 19-6
(3) Alabama 43, (14) Tulane 14 | 25-0
(7) Kansas State 31, (10) Kentucky 16 | 18-7
(2) Oregon 34, (15) Wyoming 9 | 23-2
Round of 32
(1) Oklahoma 32, (9) Washington 25 | 18-7
(4) Michigan 32, (5) Boise State 16 | 22-3
(3) Alabama 51, (6) USC 28 | 24-1
(2) Oregon 28, (7) Kansas State 14 | 23-2
Sweet 16
SUN BOWL | (1) Oklahoma 34, (4) Michigan 32 | 27-23
HOLIDAY BOWL | (3) Alabama 43, (2) Oregon 26 | 41-9
Elite Eight
ROSE BOWL | (3) Alabama 48, (1) Oklahoma 30 | 45-5
Many doubted OU's legitimacy as a contender heading into the postseason, but Jalen Hurts defended the Sooners' ranking (for the most part).
The Big 12 champions dispatched of Illinois (48-26 average, 24-1 simulations) before taking on an upset-minded Washington team that already ousted eighth-seed Florida Atlantic on the road in the first round.
The Huskies held a 2-1 lead after three games, but the Sooners won nine of the next 10 before taking the series 18-7 by a 32-25 average score.
OU appeared to be heading for an early exit in the Sun Bowl against Michigan, which beat Washington State (imagine Jim Harbaugh vs. Mike Leach) and Boise State handily in the opening rounds.
After winning four of seven to open the series, the Sooners fell behind 13-7 and still trailed 20-18 after 38 simulations. OU worked its magic once again, though, claiming nine of the last 12 games to escape with a 27-23 simulations win and an average score of 34-32.
That magic finally ran out in the Rose Bowl, though, as the Sooners saw Alabama end their season once again.
In cruising to 45 wins in 50 simulations by a 48-30 average, the Crimson Tide thoroughly routed OU, scoring 70 or more points on three occasions and 60 or more twice.
Meanwhile, the Alabama defense held the OU offense to 18 points or fewer eight times. Bama finished under 30 points only once.
Not even Pac-12 champion Oregon could stand up to Nick Saban and the Tide, winning only nine of 50 games in a 43-26 loss despite a distinct homefield advantage in the Holiday Bowl.
MIDWEST REGION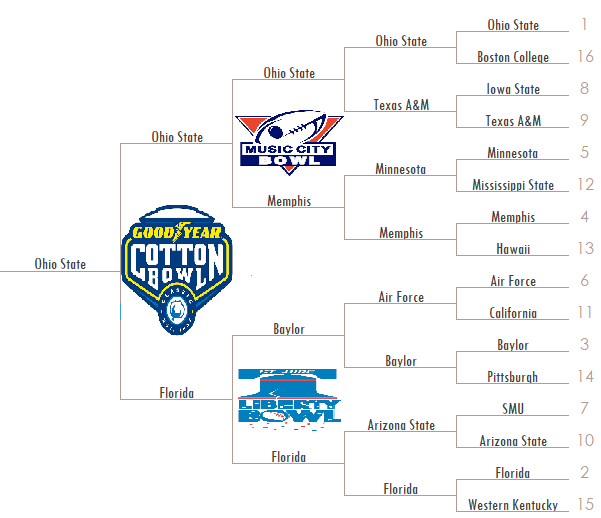 First Round
(1) Ohio State 51, (16) Boston College 15 | 25-0
(9) Texas A&M 28, (8) Iowa State 26 | 17-8
(5) Minnesota 35, (12) Mississippi State 28 | 20-5
(4) Memphis 47, (13) Hawaii 32 | 21-4
(6) Air Force 31, (11) California 17 | 21-4
(3) Baylor 30, (14) Pittsburgh 8 | 23-2
(10) Arizona State 33, (7) SMU 32 | 14-11
(2) Florida 38, Western Kentucky 8 | 25-0
Round of 32
(1) Ohio State 39, (9) Texas A&M 20 | 24-1
(4) Memphis 38, (5) Minnesota 36 | 13-12
(3) Baylor 33, (6) Air Force 19 | 22-3
(2) Florida 33, (10) Arizona State 12 | 25-0
Sweet 16
MUSIC CITY BOWL | (1) Ohio State 48, (4) Memphis 28 | 48-2
LIBERTY BOWL | (2) Florida 29, (3) Baylor 21 | 36-14
Elite Eight
COTTON BOWL | (1) Ohio State 37, (2) Florida 26 | 37-13
Ohio State emerging from this region was no surprise.
The Buckeyes cruised to the Elite Eight, winning 97 of 100 simulations by an average score of 46-21.
Memphis, which overcame an early four-game deficit to sneak past Minnesota in the second round, averaged a decent 28 points against Ohio State in the Music City Bowl, but it won only twice in 50 attempts.
In one game, Ohio State blasted the Tigers 78-20.
Florida was even more dominant through the first two rounds, defeating its opponents by a 36-10 average. Baylor put up a fight score wise in the Liberty Bowl, but the Gators claimed 36 victories in 50 simulations to move on.
Florida trailed Ohio State 4-3 after seven simulations in the Cotton Bowl, but that was the closest it would get. Ryan Day's team went on to win 33 of the next 43 simulations, giving the Buckeyes the victory by an average score of 37-26.
The Midwest Region gave us the first and only double-digit seed to advance in the tournament, with No. 10 seed Arizona State edging seventh-seed SMU with an average score of 33-32. The teams were tied at 7 after 14 sims, and after a close battle, the Sun Devils claimed the final two games to escape with a 14-11 advantage.
EAST REGION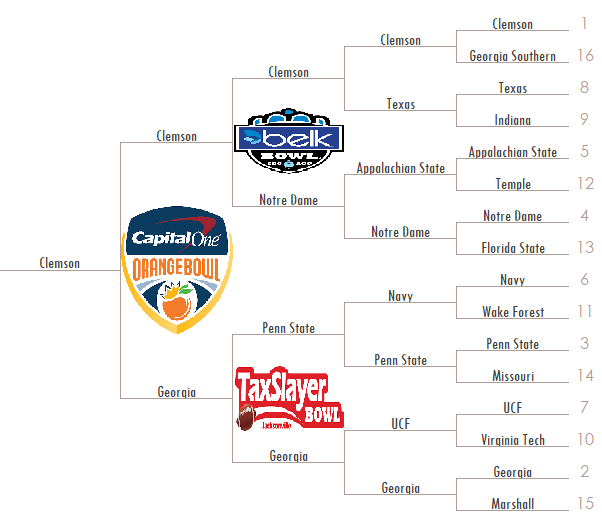 First Round
(1) Clemson 44, (16) Georgia Southern 7 | 25-0
(8) Texas 38, (9) Indiana 28 | 17-8
(5) Appalachian State 37, (12) Temple 18 | 24-1
(4) Notre Dame 35, (13) Florida State 13 | 23-2
(6) Navy 40, (11) Wake Forest 23 | 22-3
(3) Penn State 37, (14) Missouri 10 | 23-2
(7) UCF 42, (10) Virginia Tech 31 | 19-6
(2) Georgia 39, (15) Marshall 5 | 25-0
Round of 32
(1) Clemson 40, (8) Texas 19 | 22-3
(4) Notre Dame 33, (5) Appalachian State 22 | 23-2
(3) Penn State 40, (6) Navy 23 | 25-0
(2) Georgia 36, (7) UCF 21 | 20-5
Sweet 16
BELK BOWL | (1) Clemson 32, (4) Notre Dame 17 | 45-5
TAXSLAYER BOWL | (2) Georgia 22, (3) Penn State 20 | 30-20
Elite Eight
ORANGE BOWL | (1) Clemson 27, (2) Georgia 17 | 39-11
Clemson proved its dominance wasn't by virtue of a cupcake schedule, comfortably waltzing to an Orange Bowl date with Georgia.
However, not even the Bulldogs' defense could keep the Tigers out of the Final Four.
Clemson fell behind 3-1 after opening the simulations with an emphatic 34-7 win, but that was only a minor setback, for the Tigers won the next eight on the way to a 39-11 decision by a 27-17 average.
The Bulldogs and Penn State went back-and-forth through the first 21 simulations of the TaxSlayer Bowl, but Georgia pulled away with 18 wins in the last 29 games for a final tally of 30-20 and a 22-20 average.
In an explosive first-round matchup, Indiana bested Texas 41-34 in the opening game simulation, but Sam Ehlinger and the Longhorns recovered for a 17-8 win by a 38-28 average.
Similarly, Virginia Tech lit up UCF 59-48 in the first game before dropping a 19-6 decision by an average score of 42-31.
FINAL FOUR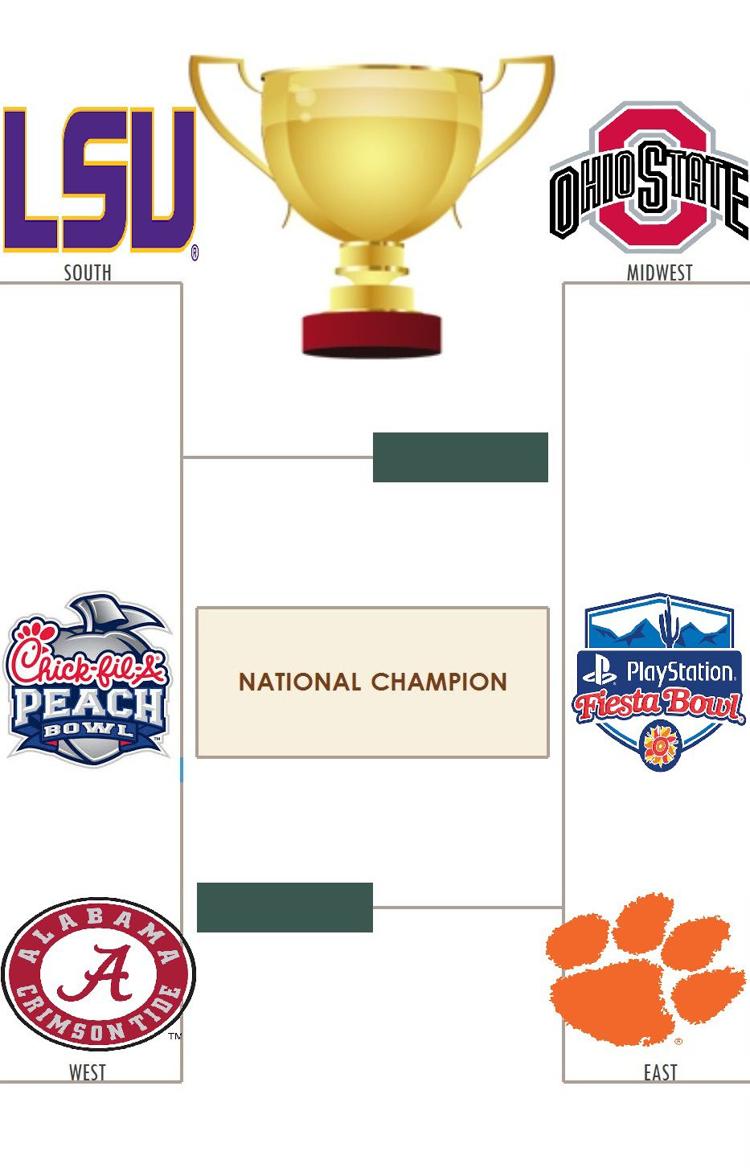 PEACH BOWL | (1) LSU 44, (3) Alabama 35 | 73-27
FIESTA BOWL | (1) Ohio State 31, (1) Clemson 30 | 53-47
The Fiesta Bowl gave us a matchup we saw in this year's College Football Playoff.
Clemson overcame an early 16-0 deficit in that game and held off Ohio State in a game that wasn't void of controversy. The computer simulation resulted in an outcome different from the actual meeting, though.
Here, the computers sided with the Buckeyes, giving them a 53-47 decision with an average score of 31-30. The Tigers overcame a seven-game deficit at one point to tie the simulation at 35, but Ohio State managed to push the lead back to six and advance.
In a rematch of a 46-41 classic, LSU and Alabama tangled once more to decide SEC supremacy. The average score of 44-35 made for another exciting clash, but the Tigers dominated the simulations to the tune of 73-27. The result was decided early, with LSU winning 38 of the first 50 games.
The Tigers, led by Heisman Trophy winner Joe Burrow, sported the top-scoring offense in the country, and that trend continued even against a Nick Saban defense.
LSU tallied wins of 72-37 and 73-42 to go along with six games in the 60s and countless others in the 50s.
NATIONAL CHAMPIONSHIP
(1) LSU 42, (1) Ohio State 34 | 72-28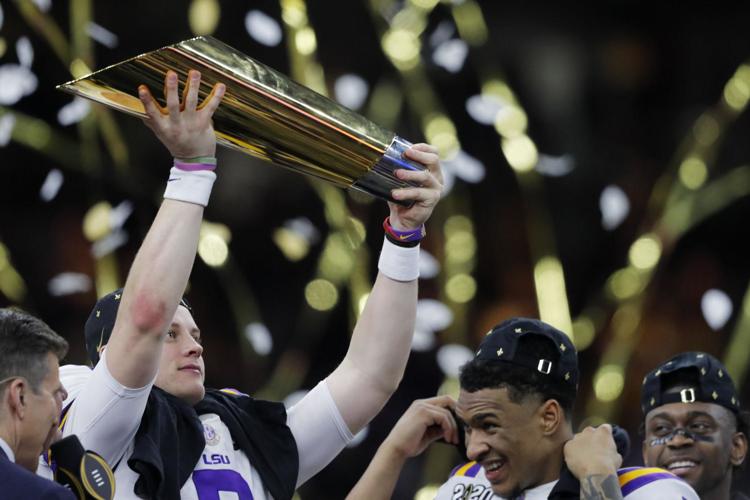 In a battle of juggernauts, LSU won a decisive 72 games of 100.
Ohio State won the first two games and four of the first seven, but it was all Tigers from there. LSU didn't garner any 70-point games this time around, but it did sneak in three games of 60-plus.
The Tigers even snared 23 games of at least 50 points while being held under 30 points only nine times.
The Buckeyes had their fair share of high scoring as well with five games in the 50s and another 13 with 45 or more, but they were also held to 20 points or fewer eight times. In its lowest-scoring outing, Ohio State was defeated 47-12.
In my simulated College Football Playoffs and in real life, LSU was by far the best team in 2019.
As they say down in Baton Rouge, Geaux Tigers.