What a year it was for Oklahoma high school football.
It opened with uncertainty because of the ongoing pandemic, and the COVID-19 coronavirus remained a looming cloud throughout the season's duration. Amidst the dozens of cancellations and postponements each week, the Oklahoma Secondary School Activities Association reshaped the postseason by letting every team into the playoffs if they wanted the opportunity.
Despite the mask requirements and limited capacities at many schools, each Friday – and sometimes Monday, Tuesday, Thursday and Saturday – provided excitement and fun.
In all, I covered 20 high school football games in 2020. One of those was the All-State game in July, but it counts.
Furthermore, I managed to cover seven of the original nine teams in the Progress coverage area. That isn't counting Owasso, Collinsville, Pryor and Lincoln Christian, which I added for the playoffs. The only teams I missed were Chelsea and Foyil, and if not for COVID-19 and inclement weather, respectively, I would've gotten to them as well.
Every game has its ups and downs, and regardless of how good or bad they end up being, they also provide lasting memories that should be celebrated.
With that in mind, I am going to rank the 20 games I covered in 2020. I didn't use a set system to determine each game's placement, but a blowout doesn't necessarily mean a bad game, and a close contest doesn't always make for a good game.
The list starts at Lantow Field in Claremore and journeys as far as Blanchard to everywhere between.
20. Claremore 50, Nathan Hale 2: The cancellation of the Sequoyah-Sperry game resulted in me sitting in for this ho-hum Claremore victory.
Brooks Sherl was the star of this rout, catching three passes from Scout Cutsinger for 139 yards and three touchdowns in only 13 ½ minutes of action. Oh, he was also named the Homecoming King.
19. Destiny Christian 68, Claremore Christian 18: Returning an onside kick for a touchdown is as weird as it is unique, but Claremore Christian senior Ethan Pilant did it twice in 34 seconds of game time during the Heartland Christian Athletic Association Class 3A state championship Nov. 14 at Bridge Creek High School in Blanchard.
However, those returns were just about the only success the Warriors could manage for most of the game, for the offense scored only one touchdown and was outgained 626-138.
This game was hard to cover not only because of the margin, but also because I had to sit in the stands with the wind reaching gusts of 45 mph. Not ideal when keeping stats with pen and paper.
The enjoyment I got from the onside-kick returns kept this game from coming in last.
18. Claremore 37, Catoosa 7: It was a rough day for Catoosa, as Claremore forced six turnovers – four fumbles and two interceptions – to win this game comfortably.
Noah Smallwood tallied one of those picks while also completing 8 of 14 passes for 133 yards and two touchdowns in addition to carrying the ball eight times for 80 yards and two more scores.
Indians quarterback Cody Busch scrambled for an 11-yard touchdown with 1:04 remaining on what ended up being the team's final touchdown of the season despite playing four more games.
17. Verdigris 45, Sperry 6: On paper, this was supposed to be an electric matchup between teams ranked in the top six of their respective classes.
It was anything but, though, for Verdigris thoroughly dominated Sperry by holding it to 81 yards total while forcing four turnovers.
Dylan White and Alec James had big games offensively for the Cardinals. White threw for 206 yards and two touchdowns on 15-of-25 passing while also rushing for a score, and James scored on runs of 7 and 58 yards, finishing with 114 yards rushing on 12 carries. He also caught three passes for 46 yards and a touchdown.
16. Holland Hall 52, Verdigris 7: This game was over in the first quarter, but what keeps it from being higher on this list is the fact I got to see the eventual Class 3A champion do some of its finest work.
The Dutch held an explosive Verdigris offensive to 133 yards while forcing five turnovers, and led by quarterback Wallace Clark, who had 271 yards of offense and six touchdowns, they hung 52 points on a defense that had surrendered only 12.6 points per game.
It was something to behold, and I'm glad I got to see the best-of-the-best in Class 3A with my own eyes.
15. Collinsville 34, Claremore 6: It was close in the first quarter, but Collinsville quarterback Andrew Carney changed that in the second with consecutive touchdown runs of 89 and 65 yards to blow the game open.
Carney finished with 196 yards rushing on 11 carries, racking up 17.8 yards per touch. He also completed 7 of 17 passes for 99 yards and a 51-yard touchdown. Brayden Gilkey added 135 yards rushing and two touchdowns on 17 carries, helping the Cardinals finish with 325 yards rushing in all at 10.5 yards per carry.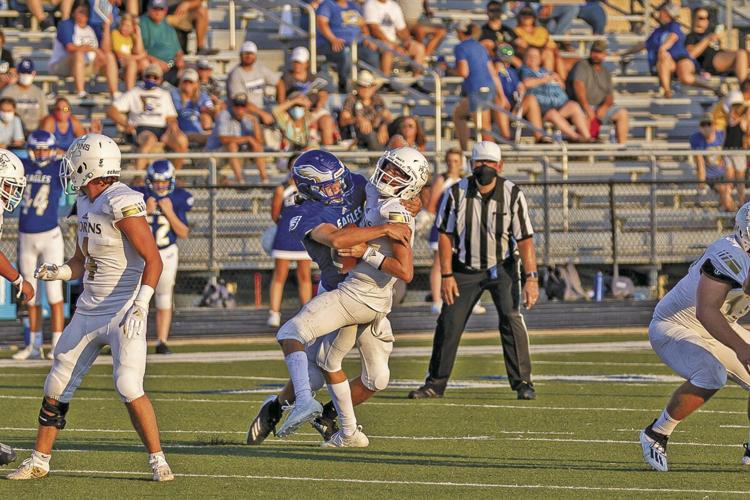 14. Inola 35, Sequoyah 7: It was closer than the score indicates.
Sequoyah returned the opening kickoff 93 yards for a touchdown but was met with misfortune after misfortune the rest of the way.
Trailing 14-7, the Eagles recovered a muffed kickoff return at the Inola 10 early in the third quarter but failed to score. Later, Sequoyah lost a fumble one play after another kickoff return for a touchdown was wiped out by a penalty.
The Eagles also failed to take advantage of two interceptions by Tyler Kruis. One of those drives ended with a blocked field goal. Earlier in the game, they turned the ball over on downs at the Longhorn 22.
13. Sequoyah 55, Dewey 8: Despite battling heavy rain and near freezing temperatures with a 25-degree windchill, the Eagles made quick work of Dewey.
Logan Woody returned a game-opening onside kick attempt 50 yards for a touchdown, and it was over after that.
Offensively, the Eagles racked up 324 yards, all of which came on the ground. Logan Hattaway and Blake Bedsworth combined for 268 of those yards and five touchdowns.
Sequoyah also forced two turnovers and scored on both, with Trey Burks returning an interception for a touchdown before recovering a fumble in the end zone two plays later.
12. Verdigris 49, Miami 10: Verdigris finished with only 207 yards of offense despite scoring 49 points, and that was mainly because the points came from elsewhere.
The Cardinals returned a blocked punt (Drache Marveggio) and a kickoff (Caden Parnell) for touchdowns while also scoring on an interception (Alek Hess). Those types of touchdowns are the most exciting, and they just happened to bail out an offense that struggled early.
11. Verdigris 35, Vinita 18: A week after throwing four interceptions against Holland Hall, Hayden Jones was in top form.
Jones rushed for touchdowns runs of 2, 15, 1 and 34 yards, finishing with 69 yards on eight carries. Redemption stories are always fun, and this one helped earn Verdigris second place in District 3A-4.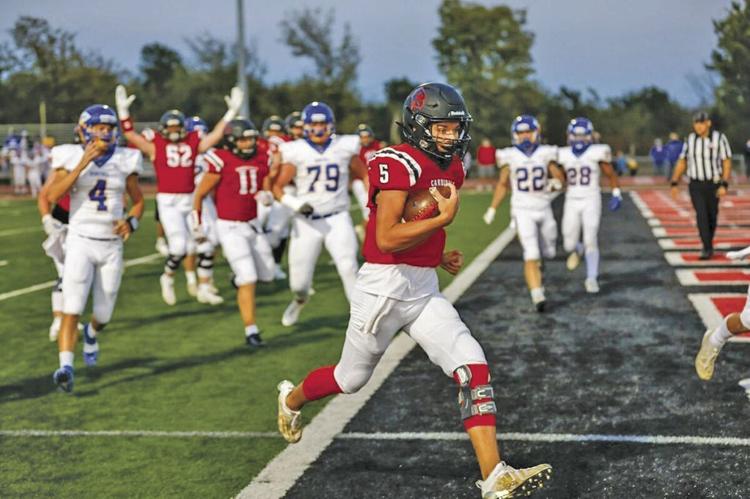 10. Verdigris 31, Berryhill 14: Caden Parnell provided quite an entertaining performance in the first of two meetings between these teams.
The sophomore rushed for 91 yards on 13 carries and catching three passes for 78 yards and a touchdown while also snagging an interception on defense. He even completed a 7-yard pass to Reese Roller on a fake punt.
His interception, which came moments before the fake-punt pass, was the last of three-consecutive turnovers forced by the Verdigris defense. The Cardinals also notched six sacks on Berryhill.
9. Grove 30, Oologah 23: Oologah held a 12-point lead at 20-8 about midway through the third quarter, but some costly blunders allowed Grove to forge a comeback.
The Ridgerunners scored two quick touchdowns to take a 23-20 lead into the fourth quarter, and they made it 22 unanswered points soon after the Mustangs inadvertently gave Grove possession at the 22 when the punter fielded a low snap with his knee on the turf.
Oologah had two chances to tie it after that, beginning one drive from the Ridgerunner 15 after recovering a fumble, but it wound up settling for a 30-yard field goal instead of a game-tying touchdown.
8. West 21, East 13: Claremore graduate Dylan Kedzior made it well worth the trip to Shawnee for the Oklahoma Football Coaches Association All-State game, catching five passes for 70 yards and two touchdowns for the East.
Both of his touchdown grabs of 22 and 34 yards came from Gunnar Gundy, son of Oklahoma State football coach Mike Gundy.
Kedzior handled the kicking duties for the East as well, booting four punts for an average of 40.8 yards while averaging 52 yards on his three kickoffs. He also went 1-for-2 on extra points.
7. Claremore 49, Glenpool 28: Claremore jumped out to a 21-0 lead with less than five minutes remaining in the first half, but the momentum quickly changed when Warriors quarterback Ashton Gorbet left the game with an injury.
Backup quarterback Matthew Vandevander made an immediate impact, completing 5 of 6 passes for 121 yards and three scores in 3 minutes and 28 seconds of game time to make it a 21-all tie at halftime.
The Zebra defense stiffened up after that, though, forcing six second-half turnovers to pull away – including four in the third quarter.
Noah Smallwood was especially impactful, rushing for 212 yards and five touchdowns on 33 carries while also completing 7 of 12 passes for 100 yards and another score. He snagged two interceptions on defense as well.
6. Claremore 36, East Central 28: It took some bigtime defense for Claremore to survive a late rally from East Central.
The Zebras committed three turnovers and surrendered an onside-kick recovery in the fourth quarter, but the defense recovered a fumble and forced two turnovers on downs on the Cardinals' final three possessions.
There were three turnovers between the teams in 55 seconds of game time at one point in the fourth, with both teams losing a fumble before William McGuire of East Central intercepted Claremore quarterback Cutsinger and returned it 105 yards for a touchdown with 8:44 remaining.
McGuire also caught eight passes for 193 yards and two touchdowns.
5. Heritage Hall 21, Verdigris 7: The Cardinals were probably good enough to win this game, they just couldn't capitalize on golden opportunities.
Verdigris made nine trips into Heritage Hall territory, including six in the red zone, but scored only once. Its lone touchdown came from 29 yards out.
The Cardinals committed three turnovers, turned the ball over on downs four times and were held to 2-of-13 on third downs while also missing a field goal. They also had a penalty negate an interception return for a touchdown, and Heritage Hall intercepted the ball back shortly after and scored a touchdown the next play.
Tough way to end the season, for sure.
4. Carl Albert 45, Collinsville 28: Eventual Class 5A champion Carl Albert had Collinsville dead to rights at halftime with a 21-point lead, but what made this game great was the latter's grit and fight in the second half.
The Cardinals pulled within 10 points in the third quarter, and if not for one of the craziest plays I've ever seen, they could've trimmed that once insurmountable deficit to a one-possession game.
With Collinsville trailing 31-21, Joey Rigby intercepted Titans quarterback Ben Harris but fumbled it after getting hit from behind. Harris somehow came up with the loose ball, returning it 40 yards for a touchdown.
The Cardinals came within 10 points again, but a negated touchdown and a late interception prevented them from closing the gap to advance to their first state title appearance since 2015.
3. Verdigris 27, Berryhill 21: Remember how Verdigris forced three-consecutive turnovers in the first meeting with Berryhill? Well, it did it again in the playoffs.
The Cardinals intercepted the Chiefs three times in the fourth quarter, helping stave off a possible upset. Evan Anderson grabbed two of those in the final 1:32, the first of which he returned 36 yards for the game-winning touchdown. The ensuing extra point was blocked, but his second pick kept Berryhill from winning with a late touchdown.
It was an exciting way for Verdigris to clinch a spot in the Class 3A quarterfinals.
2. Sequoyah 38, Haskell 0: I know what you're thinking. How can I put a shutout as the second-best game I saw in 2020?
Let me explain. This win for Sequoyah ended a 22-game losing streak that dated back to November 2017. During that span, the Eagles lost games by an average score of 40.8-9.5, so to pitch a shutout and score 38 points was incredibly impressive.
Blake Bedsworth and Logan Hattaway combined for 277 yards to help outgain Haskell 444-99 in process, but the highlight of the night came when Trey Burks mowed over a defender with a powerful right stiff-arm on the way to a 63-yard touchdown run in the third quarter.
No better way to end a long losing streak than absolutely dominating the opponent in every facet of the game.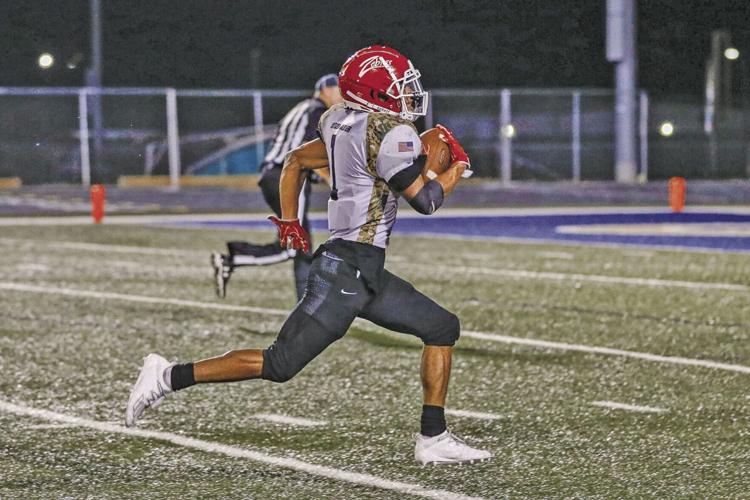 1. Claremore 28, Oologah 20: The return of the Battle of Rogers County lived up to the hype.
In a back-and-forth affair, it was DeShawn Kinnard who sparked Claremore to victory, rushing for 276 yards and three touchdowns on 20 carries, scoring on runs of 8, 82 and 78 yards. He had only 60 yards on eight carries at halftime as the Zebras trailed 14-7.
What made his performance even cooler was the fact that his parents met at a Claremore-Oologah game in 2000. Kinnard owed his life to the rivalry between the schools, and he showed his appreciation for it with an unforgettable night rushing the ball.
Noah Smallwood was equally dominant on defense, intercepting Oologah quarterback Blake Salt three times. The final one came in the end zone with 36 seconds remaining in regulation, ending the Mustangs' hopes to force overtime.
He also rushed for 114 yards and a touchdown on 14 carries from the quarterback position.