Editor's Note: Home teams in ALL CAPS
Another week of high school football is upon us, and with it comes some riveting matchups in the Rogers County area.
Some teams are still trying to find their identity after a tough Week 1, while others are already entering their third week of action and looking to iron out any kinks before the start of district play.
Meanwhile, squads like Sequoyah and Rejoice Christian are enjoying a much-needed bye after two weeks of hard-hitting action that involved everything from late thrillers to high-scoring blowouts.
However, for obvious reasons, we are focused on those on the active list.
We start with one of the biggest rivalries in the area, Claremore versus Oologah in Part 1 of the 2021 Battle of Rogers County.
This one is tough to pick simply because these teams had completely different games last week despite both of them losing.
Claremore was locked in a low-scoring defensive battle that was decided with under a minute to play, and though Oologah's fate was sealed by the second quarter, but it was playing one of the best offenses in the state that could probably hang 50-plus on anyone except the 6A powerhouses.
The No. 1 key to this game is quarterback play.
In a 15-14 loss to Bartlesville, the Zebras couldn't decide between Braxton Etheridge and Scout Cutsinger at quarterback, so both saw plenty of time behind center.
However, that seemed to keep either of them from finding a rhythm with an already young offense. The pair combined to throw more interceptions (3) than completions (2) with a completion percentage of 13.3%.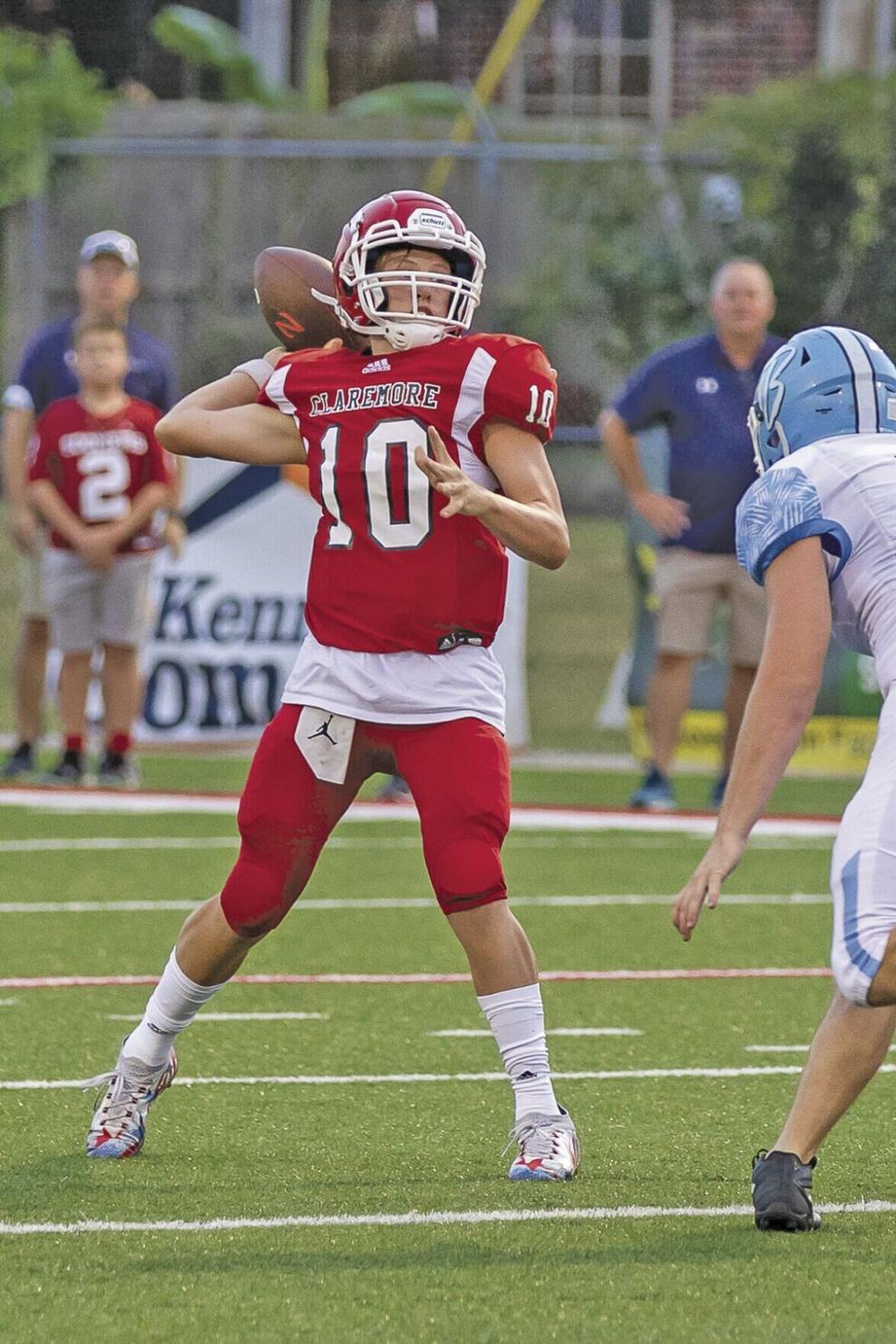 Settling with one this week could make a huge difference for Claremore's offensive success.
Elsewhere, Oologah quarterback Joseph Griswold accomplished a tad more against a better defense, throwing for 88 yards on 9-of-17 passing. Not huge numbers, but in a game involving seemingly evenly matched teams, a few more completions could be the difference.
Griswold and the Mustangs did score twice against the Collinsville starters, a fact that shouldn't be overlooked despite the 54-22 final score.
Key No. 2 is the rushing attacks.
Claremore racked up 255 yards rushing against the Bruins, averaging 5.2 yards per carry. David Lozoya led the way with 160 yards and two touchdowns on 25 carries, and Eli Rodgers had some decent runs as well.
Oologah was perhaps even more impressive, though, managing 6.1 yards per carry against the Cardinals' stout defense. Aidan Trimble and Nate Morrow both averaged more than 6 yards per carry, finishing with 163 and 61 yards, respectively.
Trimble had touchdown runs of 29 and 37 yards, but the latter came against the Collinsville reserves.
These team's rushing attacks could very well cancel each other out, which likely means quarterback play will be the deciding factor.
With all that in mind, I see a game dominated by some stellar defense, but the Mustangs have just enough to eek out a close one with a score very similar to last year's barnburner … Oologah 27, CLAREMORE 20
VERDIGRIS 44, Miami 6: The Wardogs are averaging 34 points per game through two weeks, but coming against Dewey and Jay, that number is fool's gold. Verdigris shut down a much better offense in Sperry last week, and its performance Friday night mirrors that outing as the offense finds its footing early and puts this one away before halftime.
CLAREMORE CHRISTIAN 55, Porum 25: Porum does little to slow down the offensive machine that is CCS and its 57 points per game. The Warriors roll to a 3-0 start under new coach Steve Robinett.
Summit Christian 55, FOYIL 6: The Panthers dropped a 46-0 decision to Barnsdall last week, and Summit Christian is supposed to be an even better team. Foyil again falls victim to its brutal schedule.
COMMERCE 41, Chelsea 18: Led by Chase Smith and Cash Ramsey, Chelsea has looked nearly unstoppable the past two weeks while averaging 49 points and forcing eight turnovers on defense.
However, the Green Dragons were putting up similar numbers last year at this time before suffering a 22-point loss to Commerce.
The Tigers have had Chelsea's number, beating it twice last year by a combined score of 70-24, and that trend continues Friday night. The Green Dragons haven't beaten Commerce since 1989, losing 13 straight in the series.
Inola 27, SALINA 23: The Cardiac Longhorns do it again, this time avoiding an upset at the hands of an improved Salina team. Even if the Wildcats' 36-0 victory over Locust Grove was a false dawn, don't be surprised if Inola suffers from some sort of a hangover after consecutive one-point victories.
A win would give the Longhorns their first 3-0 start since 2015.
FORT GIBSON 27, Catoosa 10: Catoosa surprised with its defensive performance against Pryor in Week 1, but its offense couldn't quite take advantage in a 20-10 loss. The Indians experience a similar outcome on the road as new coach Christian Hood continues to build the program in a positive direction.
OWASSO 37, Broken Arrow 31: Owasso showed its defense isn't perfect after surrendering 42 points to Fayetteville last week, but its offense is phenomenal. Broken Arrow hangs in there and makes it a four-quarter game, but Austin Havens and company take care of business heading into a bye week.
Pryor 30, GRAVETTE, ARK. 9: In a meeting of the big cats, the Tigers hand the Gravette Lions their second-consecutive home loss to a Progress-area team (and third-consecutive loss to an Oklahoma team). Last week, Inola defeated Gravette 17-16.
COLLINSVILLE 64, Skiatook 7: This one's gonna get ugly in a hurry, guys.
Skiatook, which was blasted 40-0 last week at home by the lower-tier Class 5A team of Glenpool, doesn't stand a chance against Andrew Carney and perhaps the current state title favorite in that division.
LINCOLN CHRISTIAN 42, Vian 14: The Wolverines have a quality program and are consistently a contender in Class 2A, but Lincoln Christian is on another level. The Bulldogs already blasted the preseason 2A favorite Beggs 52-14, so Vian's chances of flipping the script on that dominance don't look promising.
Last week's record: 12-0 (100%)
Overall record: 16-2 (88.9%)