For the Pejaks, Brazilian Jiu Jitsu isn't just the family business—it's a way of life.
Larry and Deb Pejak fell in love with the sport and opened Pejak Martial Arts as a way of sharing that passion with their community.
"When I started it was because my son wanted to do a sport and after some research I found that Jiu Jitsu was a great path to set him on. He is a current green belt and I am a two stripe blue belt," Larry said. "As a family we have adopted BJJ as a lifestyle. We all compete, we train as a family."
Larry, like most BJJ practitioners, can't say enough good things about the sport.
"BJJ is sport that teaches you to be in control of your emotions even when you are in the worst of situations. It builds confidence, and it will put you in top physical condition," he said. "At 39 years old I've never been in better shape and it's because of Jiu Jitsu. And Deb!"
He added that BJJ is fun, challenging and addictive.
And in Jiu Jitsu, there's no off-season.
"For anyone looking to do MMA or just get in shape it is, in my opinion, the best path to take," he said. "For me it was scary at first, who wants to go get beat up? I think that's the common thought process. But once you get started it's more about helping each other learn."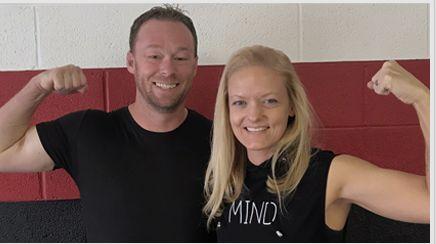 The power couple said for them it's about improving your mind, with improvement in confidence and discipline, and improving the body, with balance, coordination and increased strength.
During business hours, it's all hands on deck.
Deb teaches strength and conditioning classes and holds personal training sessions while Larry coaches a myriad of BJJ classes each week.
"We have kids classes Monday, Wednesday, and Friday at 6:30 p.m. followed by adult BJJ at 7:30-8:30 then open roll. We do strength and conditioning with Mykel or Deb on Tuesday and Thursday at 6:30 followed by adult BJJ, no gi, at 7:30. We have an open mat at 3 p.m. on Sunday Deb has training for her personal training in the morning at 9, 11, and by appointment," Larry said.
The Pejaks like to stay busy, he said.
"We do yoga most Saturdays and all proceeds go to She Brews in Claremore," he added.
Pejak Martial Arts is family-run, faith-based and beginner-friendly.
They can be found at 401 E. 5th Street.
More information can be found on the Claremore Jiujitsu Facebook page or by visiting claremorejiu-jitsu.com