CLAREMORE — Andrea Vaughan faced quite a dilemma.
Shortly after the conclusion of the first game of a doubleheader against Fort Hays State on March 12, the Rogers State softball coach received news of the impending cancellation of all NCAA spring sports due to concerns surrounding the COVID-19 coronavirus pandemic.
Of course, that information came with great responsibility.
Vaughan could tell her players right away and risk them getting distracted before the second game, or she could simply wait until afterward to deliver the untimely announcement. She chose the latter.
"I immediately went into the locker room and asked them to put all their phones away," Vaughan said. "I did not want them to see it that way. I wanted them to hear it from me, so I shut down all phone activity. I didn't want them to be distracted because you certainly want to go out on a win. It ultimately came down to if I was playing my last game, I wouldn't want to know.
"It was certainly emotional, and all of us were in tears. That was the hardest thing I've ever had to do to a group of outstanding young women."
Despite those efforts to conceal the reality of the doomed season, her 22-player team wasn't fooled. After all, prohibiting cellphone use isn't part of Vaughan's everyday coaching routine.
Rylee DeLozier, a junior from Collinsville, said she and her teammates knew bad news was coming, but they didn't know to what extent.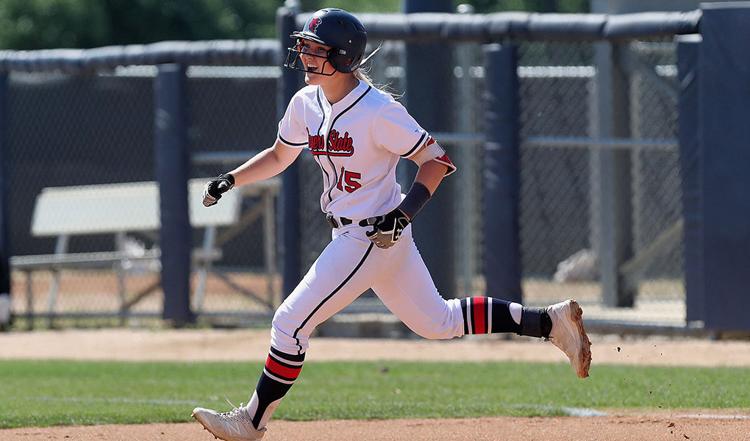 "We were like, 'OK, this news can't be good,'" DeLozier said. "It was just crazy. We heard of other teams canceling their seasons before our games even started, so we kind of already had it in the back of our minds. We just didn't want it to be true."
The No. 17 Hillcats remained undeterred, though, in claiming a 2-0 win to complete the sweep of FHSU and finish the shortened season with a 21-8 record. RSU won the first game by the same score.
According to Vaughan, it was the best start in program history. Not including the Mid-America Intercollegiate Athletics Association Tournament and other postseason action, 24 regular season games remained on the slate.
The Hillcats, who were ranked as high as No. 11 during the season, were on pace to enter the postseason with 38 wins had they been allowed to continue.
"This season, we had really high hopes," Vaughan said. "Coming out of the gate we were ranked in the top 25, and almost all of our losses came to ranked teams. The chemistry and the girls on this team are what I'm going to miss the most. We were certainly very talented, and I felt like this was — chemistry wise and talent wise — definitely the best team to ever come through RSU.
"In my mind, they'll always stand as the most unified group we've had."
When the fate of the season was revealed after the game, both teams gathered around the pitcher's circle to pray.
That, Vaughan said, helped put things in a better perspective. At that moment, it was about so much more than softball or any other sport. It was about supporting and encouraging each other during a time of uncertainty.
"What was really amazing to see was both teams coming together, celebrating the game, celebrating each other and praying together," Vaughan said.
DeLozier echoed that sentiment: "It was awesome and showed the game is more than just a game. Even if you're competing against another team, we're all there for the same goal. We want to play hard, and since that was our last game, we all came together and prayed for the best."
Like most coaches, players and fans across the country, Vaughan was hopeful the spring sports season would be reinstated after a brief hiatus.
Although the NCAA canceled all winter and spring sport championships, there was optimism that at least the remainder of conference play could be completed.
However, that all dissipated on March 17 with the MIAA's decision to cancel the remainder of the 2020 spring sports schedule.
Although disappointed, Vaughan understood the severity of the situation and the need for action to prevent further spread of the virus.
"We're obviously dealing with something a lot bigger than we expected," Vaughan said. "We want to do what we need to do in order to protect our athletes and protect all that are involved, so we as a nation understand that we have to do what we have to do, but it's been a huge gut-punch to all of us."
Luckily, the NCAA announced late last week that Division II spring sport athletes will be granted another season of eligibility. That means the Hillcats' four seniors — Danelle Day, Mikayla Waggnor, Edie Fairchild and Abigail Taylor — will have another opportunity to suit up in the RSU red and navy.
Vaughan has already reached out to her players and told them that option is available, and though it appears to be a best-case scenario for the athletes, it does create some problems.
There are only so many scholarships to go around, and the lack of turnover will likely create large rosters.
Although the NCAA is currently working to figure out the logistics of scholarship limits, roster sizes and a few other nuances, these issues have yet to be ironed out.
In the meantime, coaches like Vaughan can only reassure their signees and commits about their futures.
"You've already got those juniors in high school who are already committed, and you've got your 2020 class that is coming next year that has already signed LOIs (letters of intent)," Vaughan said. "I'm sure there's some doubts, but I've already called all our 21 commits to set their minds at ease. It could create a very large roster, but I've already tried to think of fundraising ideas to maybe help some of our athletes by absorbing some of that cast for those who do want to return.
"My athletes know me, and they know I'll go to the end of the earth to help them. If they want to come back, I want to do everything I can to make that possible for them."