Quentin Skinner knows the feeling of being racially discriminated against.
The recent Claremore High graduate, who is set to play football at the University of Kansas this fall, lives with the reality of racism every day.
He doesn't encounter verbal abuse daily, but unwarranted prejudice often casts a looming, overwhelming shadow on the African American communities across the country.
"The world is poisonous and wild, and you don't know what can happen," Skinner said. "You can be in any area, and it might not even be you, but your day might come."
That again came to Skinner's mind when he learned Minneapolis police officer Derek Chauvin killed a black man named George Floyd after kneeling on his neck for nearly nine minutes.
Chauvin was originally charged with third-degree murder and manslaughter, but those were upgraded Wednesday to second-degree murder by Minnesota Attorney General Keith Ellison.
This wasn't an isolated incident, either. According to MappingPoliceViolence.org, police killed 1,099 people in 2019, 24 percent of which were black.
"It's another incident of an African American male getting terrorized by police brutality," said Skinner, who has family members in the armed forces. "It sucks seeing things happen to people of your color and people of your race. And it sucks for people who are in the armed forces because you have family there. On both sides in my eyes, it's terrible.
"At the end of the day, there is so much hate in this world that it's just terrible."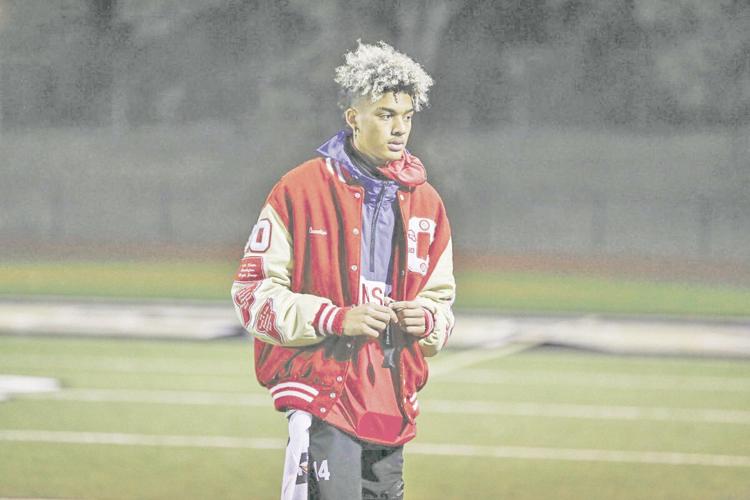 Skinner first experienced racism during a youth football game in the fifth grade.
After getting tackled in the end zone, an opposing player called him the n-word with a hard 'r'. Skinner was understandably shocked by the remark.
"You hear that word and you're like, 'Wow! Did that really just happen?' That was my first incident of ever getting (discriminated against) like that," Skinner said. "I was stunned, so I go up to the refs, and they end up kicking that kid out of the league."
Then there was the time he was profiled by police officers for matching the description of a man with a weapons charge.
They made him exit the car and sit on a curb before thoroughly searching the vehicle. It was a scary experience for 16-year-old Skinner, who was experiencing his first time getting pulled over.
"They took a minute, and they even asked me why I have so many scentsies in my car. I said, 'Well, I like my car to smell good, sir', and they're like, 'Is there any marijuana in there?' I said, 'No sir.'"
That was extent of the interaction, and Skinner credited his respectful calm demeanor to the teachings of his mother, Jamie Baker, who is white.
Skinner and his siblings were taught at a young age the importance of equality and human rights, but they also had to learn the unfortunate fact that the world isn't perfect.
Coming from a mixed family doesn't make him immune to racism's effects, and he understands that.
"My mom always tells me, 'Take extra precautions because anything can happen. Don't give them a reason why something should be suspicious,'" Skinner said. "Don't give them a reason to go out of character and do the things they're on TV for like putting you on the ground, slinging you around and beating you. If they say to do it, do it. So every time I get pulled over, my hands stay on the wheel. I answer with a 'Yes Sir', and I ask them if I'm allowed to reach in my pocket to get out my ID, and I ask to get in the console to search for my insurance.
"I take all the precautions I can."
Skinner hopes that wisdom will assist him during any racially driven encounters he might endure in the future. With racial tensions rising, that might be sooner than later.
Although he supports the recent protests taking place across the country — including in Oklahoma City and Tulsa — he opted to forgo participating.
Instead, he has focused on improving himself for the upcoming football season. He reports to Lawrence, Kan., to begin his career as a Jayhawk on Tuesday, June 9.
That doesn't mean his voice is silenced, though.
Skinner said he believes reform is possible, but White America must be willing to listen and understand what African Americans are telling them.
"The only way things can get better is if you treat them better," Skinner said. "White people, to help us out, be there for us. Help us move this movement forward. A lot of people don't know what we're fighting for. At the end of the day, we're not fighting the police, and we're not fighting Caucasian people. We're fighting the system, and that's what a lot of people don't realize."
There are ways to go about fighting the system, Skinner said, that don't involve rioting and destroying property of innocent businesses.
Skinner explained that protesters rationalize riots because they tend to get more attention than the deaths.
A common justification is that businesses can be replaced while lives cannot, but Skinner condemns any actions that are outside of one's character.
"When you riot and tear everything down, you're going to tear everything down to where we don't have anything left," Skinner said. "How are you going to riot your city — y'all love your city and want to represent your city — and not have anything left to represent? That makes no sense. With that being said, voice your opinion. Go out and protest, but do it in a characterized manner. Don't go out of character because you want to fuel yourself to have pain. Don't go out of character; there's no reason to. There's no reason to break your character as a person and an individual.
"It is all in God's plan. All we can do is what we can do, that's it. Point, blank, period. What is all this for? To push something for a greater good."