It has been a long time coming for Claremore softball.
The Lady Zebras haven't hosted a regional since 2013, and that is also the last time they qualified for the state tournament.
Luckily for Claremore, this year's group has taken care of the former. It hosts Glenpool, Edison and Will Rogers beginning at noon today in Class 5A Regional 6.
If the home team takes care of business, it'll find itself in the state tournament again for the first time in seven years.
"I wouldn't describe it as easy, but it's obviously the first time we've hosted in a long time," said Claremore coach Keeli Garroutte, who is in her fifth year of leading her alma mater. "We played well enough in our district to set us up to do that, which is exciting.
"It's taken a little longer than I wanted. I wanted every group to get to experience going to the state tournament, and obviously that hasn't happened. I'm so excited for them to get to experience hosting, and the only thing that outdoes that would be playing at Hall of Fame Stadium."
Given the quality of opponents on paper, it might be easier to advance than in years past.
The Lady Zebras are the clear favorites, finishing second in District 5A-3 with a 10-2 district mark and an overall record of 19-13. They have already defeated Edison by a combined score of 39-3 in two games, and Will Rogers (5-22) is seeded even lower than the Lady Eagles.
At 12-13, Glenpool holds the best chance of eliminating Claremore. The Lady Warriors do own a victory over Tahlequah, a team that beat the Lady Zebras early in the season.
"I'm looking for Glenpool to be our bigger competition," Garroutte said. "We don't know a whole lot about them. We saw them at the Oologah Tournament — we were both there — but we didn't play them. I'm excited to go up against them."
Claremore certainly has the offensive firepower to get the job done, averaging about 6.3 runs through 32 games.
However, the Lady Zebras go as senior Alyssa Poorboy goes in the pitcher's circle.
The right-hander has a 3.29 ERA this season, striking out 86 batters while allowing 172 hits and 30 walks through 164 innings.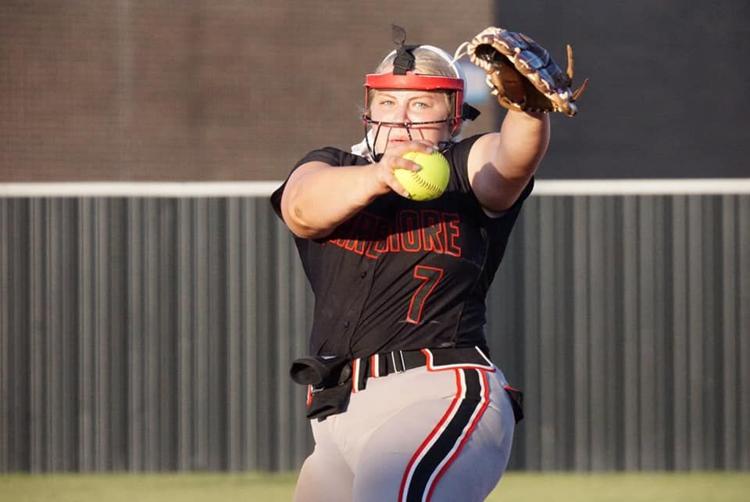 Poorboy led Claremore to within one game of the state tournament last year before losing to regional host Tahlequah in an "if" game, but she is ready to take the next step to close out her career as a Lady Zebra.
"I'm feeling pretty confident because everyone is in high spirits and feeling pretty great going into it," Poorboy said. "I feel like we have a good chance. It'd be awesome as a senior to lead my girls into state and feel very accomplishing. We're really close, and we're meshing together as a team. I can definitely see we're working together, and we're not like individual players; we're one unit. We've had little to no drama, and it's been easygoing.
"We just seem like sisters on the field, and I think that makes for better chemistry, which is working to where we can play without having to always communicate because we know each other a lot better."
SCHEDULE
Tuesday, Oct. 6
Game 1 — Claremore vs. Will Rogers, noon
Game 2 — Edison vs. Glenpool, 2 p.m.
Game 3 — G1 loser vs. G2 loser, 4 p.m.
Game 4 — G1 winner vs. G2 winner, 6 p.m.
Wednesday, Oct. 7
Game 5 — G4 loser vs. G3 winner, noon
Game 6 — G4 winner vs. G5 winner, 2 p.m.
Game 7 — G6 winner vs. G6 loser (if necessary), 4 p.m.