They say Rome wasn't built in a day, but maybe it could've been if Christian Hood and Lance Williams were on the job.
That is because these two Rogers County coaches assumed control of programs in such a state of flounder, even the legendary Romans wouldn't take them on. Despite the separate struggles facing Hood and Williams, they managed to do the unthinkable: transform Catoosa and Foyil into playoff contenders … in only one season.
After enduring winless 2020 campaigns that saw them go a combined 0-16 while getting outscored 807-124, both teams clinched playoff spots in 2021. They weren't title contenders, as made evident by their first-round exits, but the foundation has been laid for continued success.
Under 29-year-old coach Hood, the Indians went from 0-7 to 4-7 and clinched their playoff spot with a 30-6 victory over Cleveland in Week 10. All that despite having only 38 players in the top-loaded District 4A-3 that includes No. 5 Grove, No. 6 Wagoner and No. 7 Bristow.
"Going into the first year as a head coach, I knew it was important to get numbers up," Hood said. "Going forward, I think we'll have better numbers just with increased interest around the school and the community. But getting into it the first year, I thought pretty quick it's not really about numbers. I told them from late summer that it looks like we're going to have a pretty small squad, but if I can just find 22 hardnosed kids that love playing football, we'll figure something out and be all right.
"It's not so much about the quantity but the quality."
Catoosa started the season with about 44 players on the roster, according to MaxPreps, but lost several throughout the season due to different circumstances. And with the team's identity changing so much the final few weeks as the Indians made a push toward the playoffs, Hood wanted to honor those who endured the trials.
Taking inspiration from his mentor, Owasso coach Bill Blankenship, Hood remarked on Twitter that, "Anyone can be a Catoosa Indian Football Player, but being a Catoosa Indian Football Player isn't for everyone."
With that in mind, Hood handed out jerseys a little early last week and had the team photo retaken.
"We decided, hey, let's do another team picture here in Week 10," Hood said. "A true one with the guys who made it through the season and bought in to what we were doing."
The Indians scored only 40 points last season while surrendering 49.3 points per game, and with only four defensive starters returning in 2021 to complement seven offensive returners, those numbers weren't expected to improve much in Hood's first year.
However, they did improve. Exponentially, in fact.
Despite playing three more games in the regular season, Catoosa surrendered 311 points (31.1 ppg) as compared to the 345 points through seven games in 2020. That is a three-touchdown improvement defensively, thanks in large part to Colyn Treat's state-leading eight interceptions.
Furthermore, the offense surpassed its output from last season by halftime against Claremore in Week 3 and averaged 16.9 points through the regular season, up 7.8 in 2020.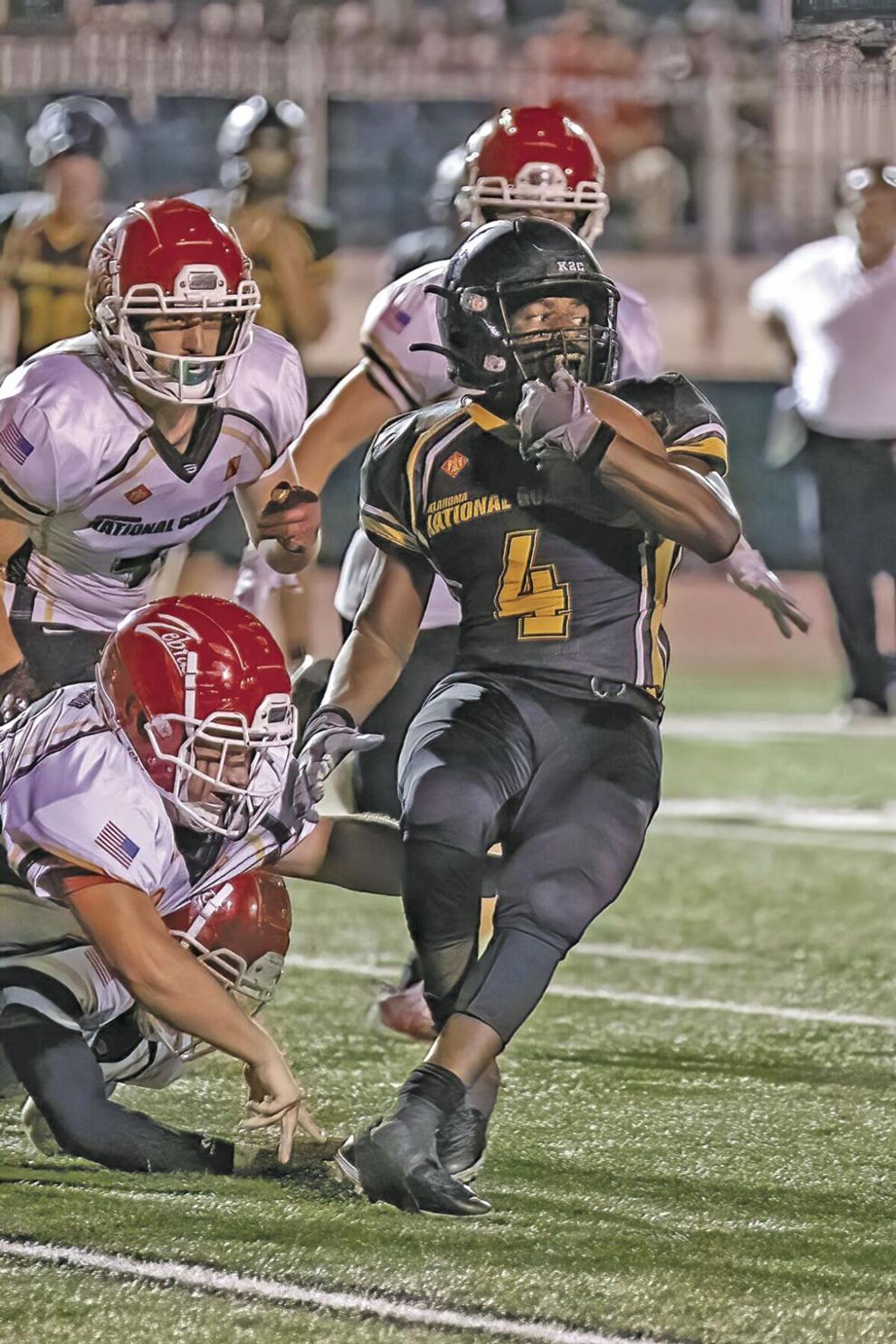 With an improved offense and defense, the Indians avenged blowout losses to Claremore (37-7), Skiatook (42-3) and Oologah (48-0) with victories of 19-18, 9-7 and 21-20. Kicker Fute Yang scored the game-winning points in each of those games via 38- and 23-yard field goals and an extra point.
Not bad for a group of kids who hadn't experienced a close-game situation coming into the season. Before the one-point victory over the Zebras on Sept. 17, the Indians hadn't been involved in a game decided by single digits since an 18-17 win over Grove on Oct. 11, 2019.
"Hiring the staff, I think that's what really helped, for sure," Hood said. "The guys who came in believed in my vision for the program, and we all had the same ideals and just took it and ran with it. It's something that you could see transform throughout the season. After the Claremore game, the guys were starting to figure it out a little bit, but if you came back now, it'd be a lot less coach-led and a whole lot more player-led, which is where we want it to be."
About 24 miles northeast up Route 66, Williams used his 27 years of coaching experience to guide the Panthers out of a 16-game losing streak to a 3-8 mark. They won three of their final four regular-season games to secure a spot in the postseason.
Foyil participated in the playoffs in 2020 despite an 0-9 record, but that was only because the Oklahoma Secondary School Activities Association allowed every team into the postseason due to the number of cancellations caused by the COVID-19 coronavirus pandemic.
"That was the OSSAA making money, that's what that was," said Williams, who coached Foyil in 2017 and 2018 before stepping down to focus on family and his duties as the school principal. "I thought they'd do it again this year, but I'm glad we earned it the right way."
Wins over Depew and Drumright avenged double-digit losses from last year, but the beginning of the season was anything but glamorous.
Foyil opened 2021 with six-consecutive losses, scoring only 38 points with three shutouts. During that stretch, Williams' squad surrendered 48.7 points per game.
"It's been a struggle," Williams said. "Sometimes I wanted to know if maybe I should've stayed going home after school, to be honest with you. And I told the kids that, but I think the No. 1 thing is somewhere along the way, the kids bought in to what we were talking about, and we got healthier at the end of the year. We were butting heads early in the year, but something happened; something clicked. We've got a long ways to go, but they helped set the groundwork for three years to come.
"They just started believing and having fun and believing in each other."
The final four games saw a massive improvement, with the Panthers averaging 31 points per game despite suffering a 55-0 loss to powerhouse Regent Prep. Meanwhile, the defense allowed only 21.3 points per game against Prue, Depew and Drumright.
In last week's 32-14 win over the Tornadoes, Foyil surrendered its fewest points since a 58-12 decision over Welch on Sept. 20, 2019.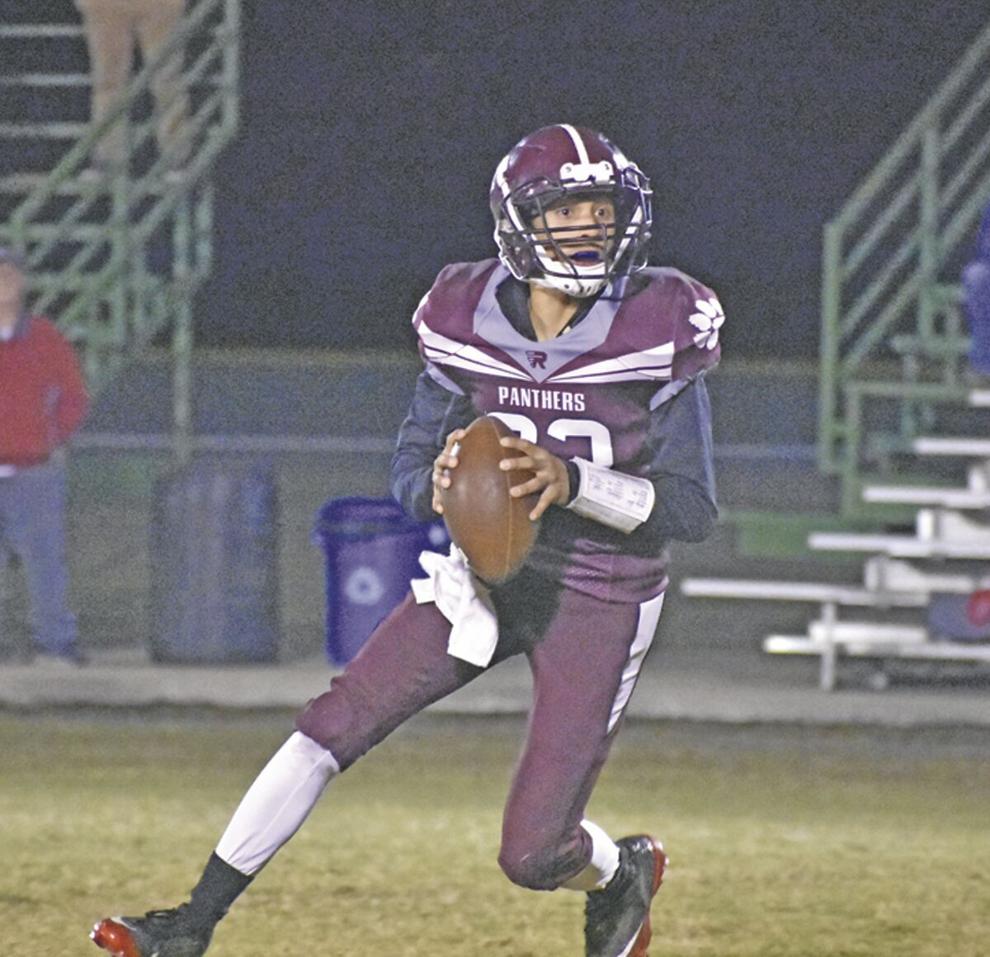 "I rank it up with games that I've coached as one of the most complete games by a group, whether it's eight-man or 11-man," Williams said. "We actually left some points out there; we scored and had it called back. It wasn't perfect, and we had some penalties, but there were a lot of flags thrown on the other team and a lot of talking and jawing, and we stayed out of that just played football. I'm proud of that type of composure that the kids showed."
And the Panthers aren't going anywhere after this season.
They've been stuck in a district with two of the best eight-man teams in the country. Heading into the first round of the playoffs, Davenport was ranked 56th of 1,893 teams listed on MaxPreps, and Regent Prep came in at 77th.
That isn't even including other opponents on the schedule like defending Class B champion Dewar and Summit Christian, which are ranked 23rd and 68th, respectively.
Starting in 2022, Foyil is moving to District B-6 where it'll join the likes of Cave Springs, Arkoma, Gans, Keota and Welch. Keota is the highest-ranked team of that lot this year, coming in at 123rd in the country.
"I don't mind getting away from Regent and Davenport," Williams said. "I'll drive two hours to get away from them. (This district) is better than the bunch we've had."
With a much more manageable schedule in the near future, there is no telling where Williams could lead Foyil in the Class B ranks.
Regardless, Panther fans should get used to competitive football moving forward.
"I'm happy to have us trending in the right direction," Williams said. "It was a good first year. I'm pleased."